De leukste
groepsuitjes
in Limburg
De leukste uitjes
in Limburg
De leukste groepsuitjes in Limburg
Ben je op zoek naar een groepsactiviteit voor bijvoorbeeld een te gek vrijgezellenfeest, personeelsuitje of vriendenweekend? Kijk dan snel verder op onze site. 
Onze groepsuitjes locatie is gelegen in Sevenum, direct aan de afslag van de A67 (Afslag Panningen-Helden). Een half uurtje vanuit Eindhoven en 10 minuten vanuit Venlo.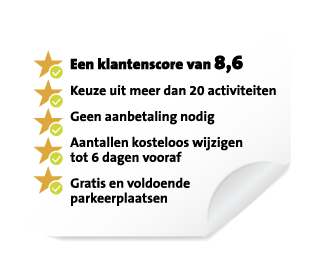 Vrijgezellendag?
Op deze site vind je vele groepsuitjes die er voor gaan zorgen dat je een onvergetelijk vrijgezellenfeest krijgt. Of het nu lekker sportief mag zijn, of gewoon gezellig. Wij maken er het beste vrijgezellenfeest van.
Bekijk hier onze vrijgezellenfeest activiteiten.
Personeelsfeest?
Ben je dit jaar aan de beurt om het personeelsfeest te regelen? Dan hoef je niet lang te zoeken want wij hebben vele leuke activiteiten en arrangementen voor een geslaagd personeelsfeest.
Bekijk onze activiteiten die zorgen voor een geslaagd personeelsfeest.
Stormbaan bestormen?
Wij hebben de gaafste hindernisbaan van Limburg in de vorm van de Crazy Crasher. Je kunt het wat vergelijken met Wipe Out. Lukt het jou om de negen onderdelen succesvol te bestormen zoals de bouncings balls of de dizzy run?